On a daily basis we create beautiful and realistic works of art on the bodies of men and women, resulting in stunning visual illusions.  We have been offering body painting for over five years and have worked with many businesses and photographers in that time.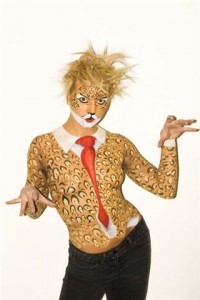 We are currently offering our services to companies, and clubs interested in utilizing our talents to promote their business or special event. Beautiful women and men painted in spectacular designs or company logos is a great form of promotion that is sure to bring in a high amount of revenue and traffic for your business. Companies and venues of any type can utilize our talents. Whether its nude body painting for adult clubs, or clothed body painting for theater productions, and family oriented venues.
Business advertisement; painted on uniforms, full logos, painted ladies for clubs
Clothing; bikinis, shirts and jeans, dresses
Costume parties; sexy nurses, naughty cops, schoolgirls
Belly art ; for pregnant moms to be.
Creature creations; Angels, faeries, zombies
High fashion; fashion shows, galleries
Logos; sports teams, advertisements
Modeling portfolios; glamor, artistic/implied nude
Performance art; living statues, artistic make up
Promotional Body Painting
Studio
We have access to a good size, private studio complete with an infinity curve wall, with a professional photographer at your service.  We are also happy to travel to a studio of your choice or work on location.
Photographers
We are able to source a photographer for you if required.   We are also happy to work with a photographer of your choice.  We highly recommend Ian Shipley for commercial projects.
Collaboration Video
About The Artist
Our artist Victoria Howard specializes in body painting.   Her work has twice been featured in the Derby Telegraph Newspaper.
2009 Victoria produced body paintings in caves for the Photographer Graham Hickman on his painted Landscapes project.
Victoria Howard's Past Assignments…
Photographers.. Graham Heywood,  Alan Bruce,  John Elsey, Parminder Singh Sago, Ian Shipley
Film Her body painting work will be featured in the feature film "Black Biscuit", due for completion 2012.
Photo Essayist Special effects make up for use in the photo essay by the director Iram Kham.
Commercial Work Moore Chiropractic Clinic, Kel Truck, Always Riding, Rayleigh, Mint Casinos and Christian Audigier.
Cut and paste the links to see Victoria's latest work…

Launch Party for Christian Audigier…

http://www.holymoly.com/celebrity-news/peter-andre-christian-audigier-launch-party17828
Launch Party for Rayleigh
http://www.youtube.com/watch?v=QIT3RLEQsPg
Project with the Artist Janis Rafailidou
http://www.janisrafailidou.co.uk/photo-series
Tear Sheets